Think most of you now know that over the last Hari Raya holiday, I have been pretty busy preparing for my beloved brother's wedding. It came like lightning and in a month over, we are happy and done with it. I always wanted to see how a couple's wedding ring be.. whether it's
Green Diamonds
or just colorless.
During my SIL's employment with one of the famous jewelery shop in Mid Valley, I thought she would be able to get some discounts if she wanted to buy her rings. I have been asking her to get some nice
Yellow Canary Diamonds
instead of those common ones, since she can actually have discounts and it's from my brother's pocket.
I remembered back those days, when I was tricked into believing I will be a 'bride' I always long to have a diamond rings. I even go around everywhere to search for one that suit me the best. Guess since I didn't manage to get one that I like, it also telling me that the 'truth' is behind it. See, another thing about diamonds that I believe...
I wanted it so much for a diamond, and let's make this my target in time to come...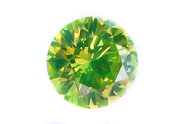 I am sure with some changes to my current way of living, I will be able to see this DIAMOND on my finger instead of the picture! Another reason of why I prefer diamonds to gold? Because diamond comes with a certificate and guarantee!!
Wish me luck my dear friends... either I find this piece of diamond on my own, or I find one that can afford to buy one for me... and I think it's easier if I find it on my own...